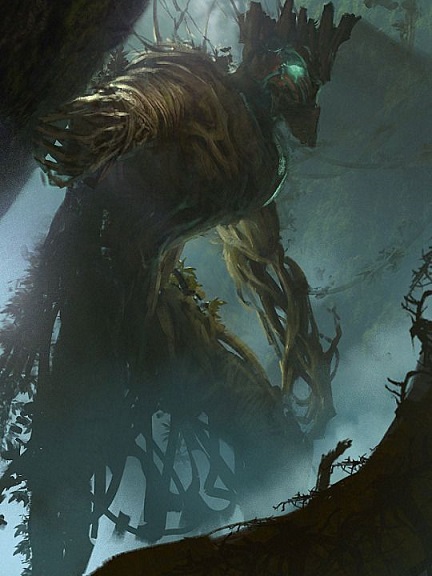 With a great understanding of Nature Energy, Silvanus has an uncanny sense at finding Sparks of Creation; the stuff that would make him a Beast Creationist. On 19 Witchrite 3288 DE, a Covenant colonel named Silvanus created the first Treant.
Using a Spark of Creation and Warp Matter, taken from the Decomposition String no-less, he gave a simple tree its voodoo. It was given mobility, an intelligence on par with the bipeds, and purpose.

- Ares, from his time in the Covenant Internal Affairs - "Treant"
Serving the Covenant war-machine, more treants were made. They were tasked with spying, becoming an intelligence network called the Roots of Núlananya. The seeds that have spread from these "spy treants" would become the more normal treant, those without the bits of warp matter to power their rift-making magic.
Treants of the realm are categorized by their tree type with Ironhue treants being those with a very high toughness, and the black oak treants of Logor having a high degree of strength, and the firebrand treants immune to fire, and so on. The warp matter of their ancestry has led to some becoming a corrupted form of a treant, like the dark treants of Gambriath.
The dark treants of Maegorion, part of the Dark Timber Migration came about from the planting of the Tarfilerquar Seed.
The tree sap of treants, both living and dead, can be used to make potions like strength, fire resistance, healing, growth, giant strength, plant control, and many others. What type they can be used for depends on the treant type.
Treant Sap

| | |
| --- | --- |
| Black Oak | growth |
| Cypress | strength |
| Dark - Maegorion | plant control |
| Firebrand | fire resistance |
| Ironhue | protection |
| Maple | healing |
| Walking Palm | climbing |
| Yew | speed |
Racial Traits

| | |
| --- | --- |
| Racial | as treant |
Related Information
Notable Treants