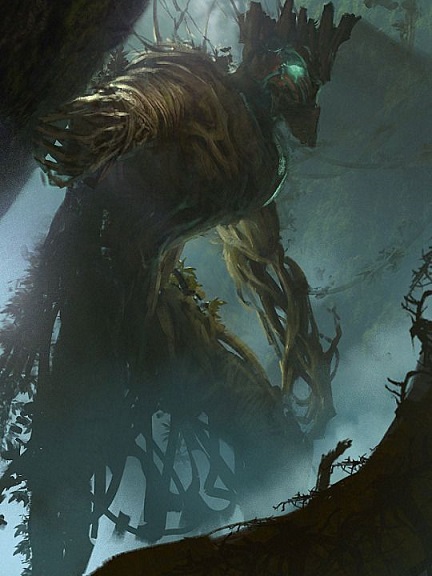 The first treants were created by Silvanus. When he was an archangel, he was the top practitioner of nature energy magic. His ability to harness nature energy also gave him an uncanny sense for finding Sparks of Creation. These finding in turn led to him becoming a Tier 4 Creationist. He used Sparks of Creation to give normal trees a sentience equal to or better than most humanoids, making them the first treants. These treants were tasked with spying on the worlds being created by rogue primordials and the Creationists. They became his intelligence network - the Roots of Núlananya. The seeds that have spread from these spy-treants became normal treants, meaning that they are without a bit of warp matter powering their gate magic.
Treants of the realm are categorized by their tree type with ironhue treants being those with a very high toughness, and the black oak treants of Logor having a high degree of strength, and the firebrand treants immune to fire, and so on. The warp matter of their ancestry has led to some becoming a corrupted form of a treant, like the dark treants of Gambriath, and other types of twisted and evil treants.
The dark treants of Maegorion are not a product of being corrupted by warp matter but something worse. They are part of the Dark Timber Migration which began with the planting of the Tarfilerquar seed.
The tree sap of treants, both living and dead, can be used to make potions like strength, fire resistance, healing, growth, giant strength, plant control, and many others. What type they can be used for depends on the treant type.
Treant Sap

| | |
| --- | --- |
| Black Oak | growth |
| Cypress | strength |
| Dark - Maegorion | plant control |
| Firebrand | fire resistance |
| Ironhue | protection |
| Maple | healing |
| Walking Palm | climbing |
| Yew | speed |
Racial Traits

| | |
| --- | --- |
| Racial | as treant |
Related Information
Notable Treants