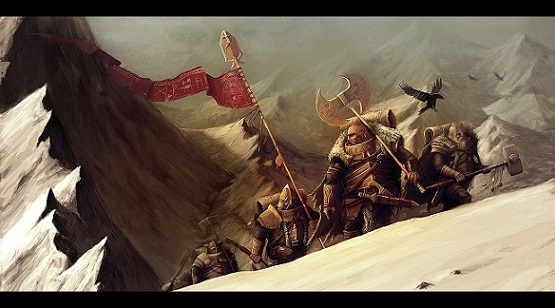 Gimhak was a dwarven kingdom that reigned in the highlands of Bileddanul for twelve centuries. They were economically strong and helped control some of the evil menacing the central areas of the region Grashakh. As the population and might of the kingdom grew, Gimhak sent colonists to other areas of Brucrumus.
The Ishargs were the first group to leave Gimhak. They travelled southeast into the deep forests of Thithanorn. In 502 they founded the settlement Anarukthalan.
In 645, another group of Gimhak colonists established the settlement of Strumpktar among the Gathol Hills.
The Orchish Empire destroyed the kingdom of Gimhak in the Gimhak War.
Architecture
Gimhak architecture goes back to the time when the land was beset by demon hordes. Of military purpose, ceiling heights were made suitable for Bileddanul's defenders, mostly Turkûn serving under Naraz-Nâru, while impairing the movement of those larger than them. This style of architecture is a quite different than that used in the Clans Region where ceiling heights are often two to three times what is found in Gimhak's ruins.