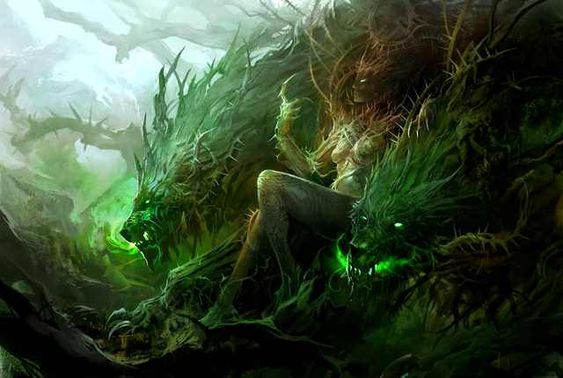 Melrith is the mother of Dark Nature, a twisting of nature energy into what is called dark nature energy. Those seeking to cast dark nature spells have to pray to her. She is the only god that has access to spells requiring Dark Nature Energy. One of her strongest spells is Melriths Flowerpot.
A few years after Gulfrek Hjard's eldritch giants sacked the Pyramid of Life , they were putting out feelers for some help in a complex ritual. The Lith-Crillion put their own message out warning that any who helped the giants would be an enemy. The only person to respond to the giant's request for aid was Melrith. At the time she was not yet a god. Her influence was growing steadily across the lands. With her help, the giants used the tome Falling Leaves to create an evil variant of the Wood Woad, the Dark Woad.
One of Melrith's ideals is that nature energy is a fuel for making dark nature energy. This means that keeping a balance of the forces of nature, animals, insects, and plant-life, is only important when it contributes to creating the fuel.
Known Powers

| | |
| --- | --- |
| Divine Toughness | +500 hit points as Cult Power |
| Modulating Energy | +5 modulating energy damage for all attacks |
Related Information
Lineage

| | |
| --- | --- |
| Melrith | |
| | Arirmarg |
| | Gambriath |
| | Vaharmane |