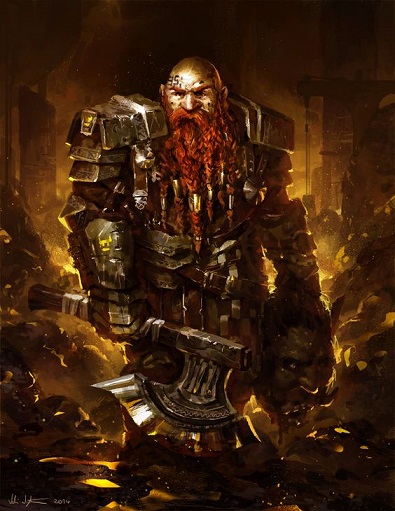 Malad-Mîn was a dwarven empire that reigned during the Horgon Era and into the first part of the First Epoch. The people of this empire were concentrated in the western reaches of Khalas. When the empire was formed, it was ruled by a king. Later on, the government changed to an oligarchy called Khazir-Mizir. This government was composed of 20-30 clan heads that served as the lower house of Khazir-Mizir. The upper house was headed by 4-6 leaders from the wealthiest clans.
The kingdom was often in conflict with the frost giants of Ice Cap, the stone titan empire Cûngin-Zar or with the eldritch empire Saer Erkjorg. They also warred with the goliath and the Azwyr Amoruk of Gamakkhazar. By the early part of the First Epoch, Malad-Mîn had driven the goliath to the far eastern reaches of Khalas.
In the Year 86, Malad-Mîn fell to the goliath confederacy of Khalas-Tûr . After the fall of Malad-Mîn, the people separated along clan lines with some going west and establishing Brisingr. A smaller groups of clans that were in the remote areas of Malad-Mîn territory were separated by the Khalas-Tûr armies. Rather than being enslaved by these barbarians, they fled into a fortified complex beneath Indushmêk. In this area they fought off attacks by Khalas-Tûr while they built up a large fleet of craft to move their people and supplies. In the Year 89, the entire refugee population at the Underdark port Thûr-Damazandal, departed the area by way of the river Damazandal. After a three month voyage, they arrived at the future site of Nûl-Bazân. The voyage was a costly one, with nearly 1,000 people of the 6,000 migrants lost to accidents and fighting with others along the river. These refugees would give rise to the empire Phlehorn and make the region around it better known as the Clans.
Holdings
Nârum-Khelâg
Thûr-Damazandal
Conflicts