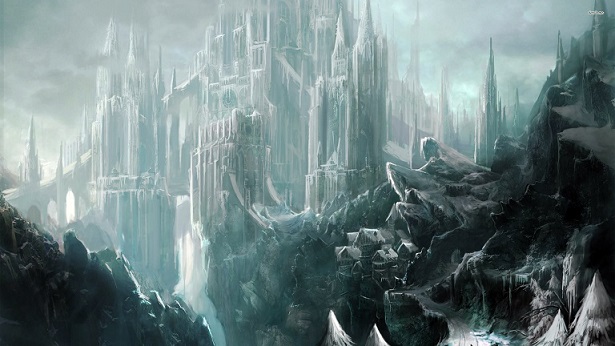 Sited in the glacial vale of Khalas, Azudushmanam was built to guard the quarries behind the fort. Out of these quarries came blue and white speckled stone, destined for buildings across the growing territory of Malad-Mîn. It became a massive citadel with walls and fortifications built to withstand giant attacks and occasional attacks by white dragons. Under Azudushmanam are extensive fortifications, protections against the relentless attacks of the Gamakkhazar.
When Malad-Mîn fell in the Mulinburam War, Azudushmanam was left abandoned for two years. The residents then returned forming the Brisingr kingdom and making Azudushmanam their capital.
Long has Azudushmanam been a bastion for the Church of Naraz-Nâru. From its founding, its worshipers have took the path of war priests, combat healers, and other tracts supporting the interests of Naraz-Nâru. For thousands of years, it has served as the highest Church of Naraz-Nâru. It is of such authority that it can cast out those that steer wrong (c.f. Rethmorg).