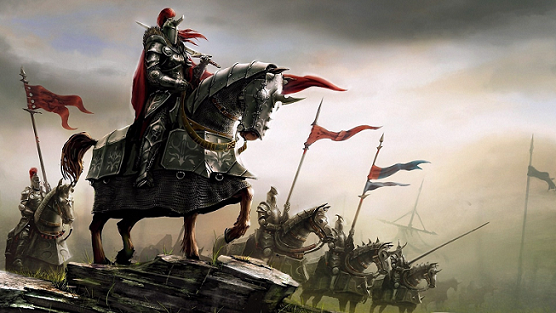 The Lances of Merioss was formed during the reign of the Farinteen Empire. It comprised five knightly orders unified as one to combat the growing menace of evil coming out of Hells Womb. The headquarters for this order was Holy Sanctum.
In 1260, they joined the Gwaeldior Alliance. The Lances of Merioss, an elven army out of Celebriän and Tragaran merchant houses seeking a change of government joined forces to overthrow Kal-Oni (of Lirgaza).
In 1267, the Pitch Bone Legion moved northeast from the ruins of the Kal-Oni Empire and headed towards the forests of Gwaeldior. The Lances of Merioss defeated this undead horde in the Battle of Mynzuth.
The Sun Knights were bitter enemies with the evil knightly orders of the Council of Bile. During the annual Knights Cross tournament, arch-enemies of the good and evil orders would square off in matches that frequently fell under the category of "Death Matches".
The Lances of Merioss was the oldest knightly order of the Lands of Purity. It was disbanded in the 1486 after internal feuding among its member orders. The theme of this internecine conflict was who, which order, held responsibility for the collapse of the battlefront at Hlophar-Maur and the subsequent fall of Holy Sanctum. The knightly orders separated and went their ways to battle out the forces of evil on their own. A period of more than four hundred years of unification had ended over knightly pride and honor.
When the Council of Bile learned of the break-up of the Lances of Merioss, the Orders of War lowered their flags to half-staff, and some vowed to avenge their honor.

- excerpt from the book Knightly Virtues - "Honoring the Honorable"