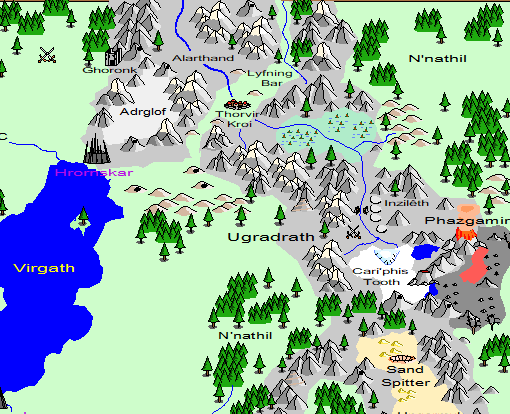 Thorvir Kroi began as an enormous bridge, spanning a mile of raging rapids. The builders, the frost giants of Glangveif, made to reach their holds scattered among Ugradrath's icy slopes. Spanning the Alarthand River, it has 14 great towers and 28 spans. Marvels of engineering, some of these towers jut out of the river bed.
The fall of Glangveif (314 HE - 31) led to declining maintenance and eventual ruin. The towers became lairs for wyverns and even white and blue dragons.
In 1444, the Treaty of Thorvir Kroi was signed between the Orchish Empire and the Khazarkar Empire. A commercial venture, the two sides put money into rebuilding the bridge. In times of peace, the bridge becomes a town bustling with traffic heading north into Khazarkar lands, or south through the valley of Lyfning Bar into lands of the Orchish Empire.
Under a joint civilian administration, each side with their own books, "civilian" accountants and others tax goods, record the contents of every box and bag, along with those crossing the bridge. No secret to either, Thorvir Kroi is a place of important intelligence gathering.