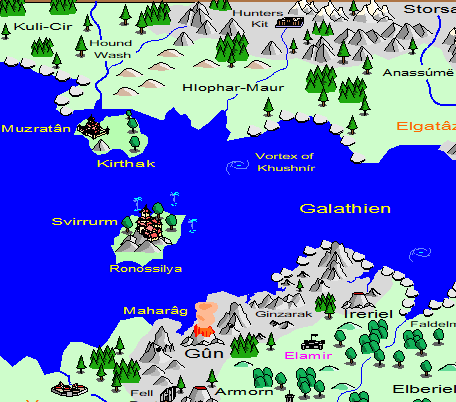 The southernmost hold of the Ak'mrîtun Empire (872 HE - 49), Muzratân began as a poor fishing village. They supplied exotic sea victuals for the demands of the empire's wealthy, sometimes sending eggs and fish on ice to the tables of Ak'mrîtun's faraway capital of Argruxiel. When the empire fell in 49, Muzratân's remote location on the island of Kirthak, spared it from the blood-thirty abominations of the Horde of Mingrur.
Built on the isle of Kirthak, Muzratân has three ports. The northern port, facing where the Hound Wash empties into the sea, is sheltered from the mountain winds of the Storsalds and those of the surrounding sea. The western port faces the Sea of Galathien. The other port is an one entered by going underwater. It is a market for the intelligent and more civilized aquatics of the region.
Muzratân has resisted occupation by every power that has come to the Lands of Purity. The Farinteen Empire failed to make it a vassal, giving up after a series of bitter insurrections. In the Black Tide War (1465 - 1504), the city remained neutral, repelling two Black Tide attacks. Although the government remained neutral, merchants carried about their business of supplying all buyers.