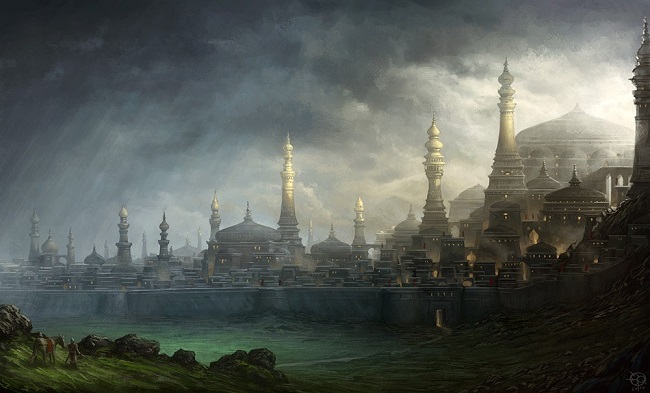 Khimilêth was founded by Khazarkars that fled the oppression of the Khazarkar Empire. Most left because of religious persecution or the society's rigid caste system.
Khimilêth is sited on the northern tip of the Sands of Hell where it meets Hullbreaker Bay. In the Khazarkar Empire, worship is imposed by the Pharzîmrâth. In the free city of Khimilêth, Khazarkars of any caste and any other people are free to worship any god they choose. Most pay homage to Bahamut, Geb or Kebechet.
The city is protected by two great natural defenses, a hot and unforgiving desert called the Sand of Hell, and the treacherous shoals of Hullbreaker Bay. The other great defense of the city is the protective power afforded by the Sands Pyramid of Power. These defenses have kept the city from succumbing to the great might of the Khazarkar Empire. The other great wonder of the city is the Pyramid of Anubis. In the Creation War, the archangel Anubis was slain by the primordial Asoun. His remains were entombed in this pyramid.