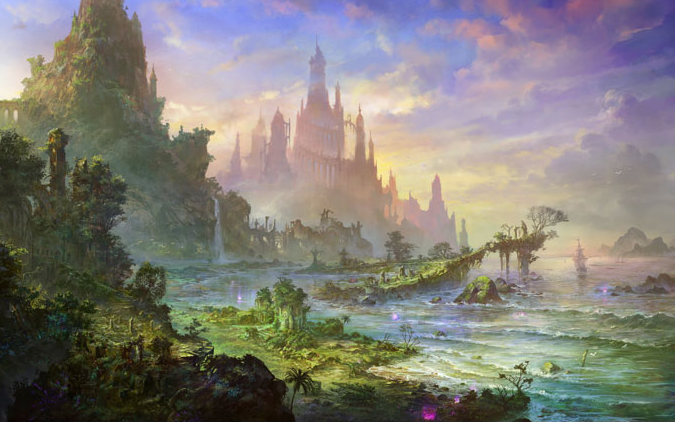 Séregon is an elven city on the western shores of the Core Sea. It is backed by the deep woods of Arinthil and straddles the Elatir river. On the city's coastal side, are hundreds of canals and dikes. In times of conflict, these are used to flood the city's eastern approaches. In times of peace, the wetlands bordering the Tyera bay are a source of food, in conflict they are a source for summoning great swarms of insects and "befriending" squads of shambling mounds.
Séregon tall slender fluted towers are an awe-inspiring sight. It is said that the melody produced by the city's architecture fills those unaccustomed to it with a sense of peace and tranquility. The city has ten special towers called the Maenglórfan. Even the slightest of winds coming off the Core Sea will invoke a beautiful sound, one so powerful and magical that a Khazarkar Empire invasion fleet was put under a blissful sleep (c.f. Sleepers Battle).
The city is predominately populated by Kriavian Elves with blood lines to the High Wood empire Rúmil. Séregon was founded by the Ithendelts. When this empire split, it became the capital of the victors, the Ithengee; the losers moved across the Core Sea, reestablishing themselves at Erchinor.
The city's halfling population are mostly those with lineage to the Nermanis Syndicate. The city's Forstneblin trace their blood lines to their wild brothers and sisters of the Quellestir Forest.