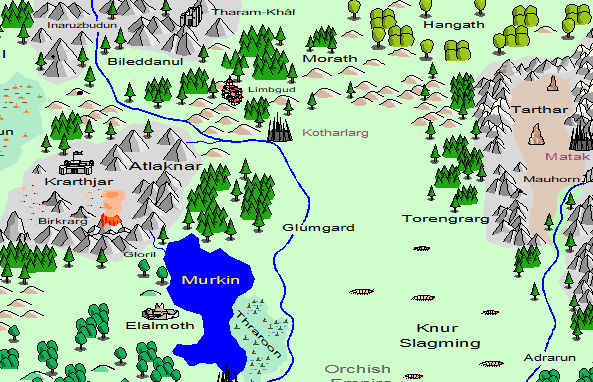 Founded on 27 Kindle 1120, the city of Kotharlarg served as capital of the Orchish Empire from 1140 to 1188. When the empire's center of power shifted to the north, the capital was moved to Gháshulg. This move created an intense rivalry between the empire's northern and southern military commands; one stoked in competitive spirit by their Ageless Emperor.
Kotharlarg is sited at the southern edge of the evergreens of Morath. It opposite side overlooks the river Glumgard. A port city, it is the furthest north that deeper drafts vessels can safely go. In the summer, the river south of the city is dredged by water elementals and digging barges.
Saint Tyrinaxx, religious authority for all of the empire's southern holdings, is Kotharlarg's military governor.
Kotharlarg specializes in raising and training hydras and other war beasts.
A rowdy and sometimes lawless city. The Orchish Empire have long struggled to instill order and discipline here. Some believe the presence of Limbgud, a monastery built in the Sea of Entropy, is the cause.
Related Information
Notable Areas