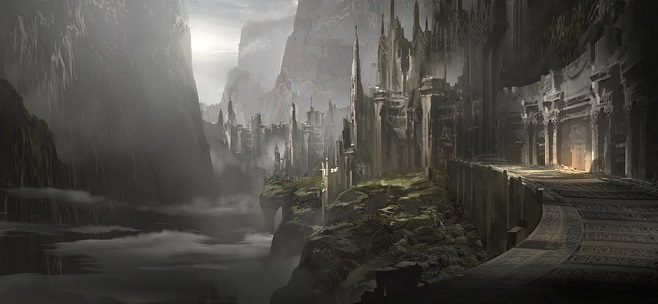 In the First Epoch, gnolls built a trading settlement on the north face of a massive hole called Yeenoghus Spittoon. They named this settlement after General Kugirmuk, favored concubine general of the demon lord Yeenoghu.
Giving the Gnoll people a bad name, in 780, the free-town of Kugirmuk, den of debauchery, handler of the plunders of Yeenoghus Spittoon, was captured by the Yagamph Republic (746 - 956). The Yagamph, peopled by so-called gnolls of enlightenment, went to cleaning up the town's image, repairing relations with the potential trading partners in the deeps beyond Yeenoghus Spittoon, on the shores of the Heliotrope Sea.
In the Second Epoch, Kugirmuk was a member of the Garormuk Federation. In the Year 1235, caught up in the Witch-Pack War (1190 - 1240), on the western edge of the Federation's holdings, it inevitably fell to the Witch Horde.
In 1829, Kugirmuk fell to the Luran Alliance. After the Buruthran War (1824 - 1829), it became a holding of the Divine Empire.
By way of paths, elevators and a road, Kugirmuk is linked to the subterranean citadel of Phure-Zil. One of the trade goods that passes through these two holds are the Tears of Achamâz, holy stones destined for the Lands of Purity.