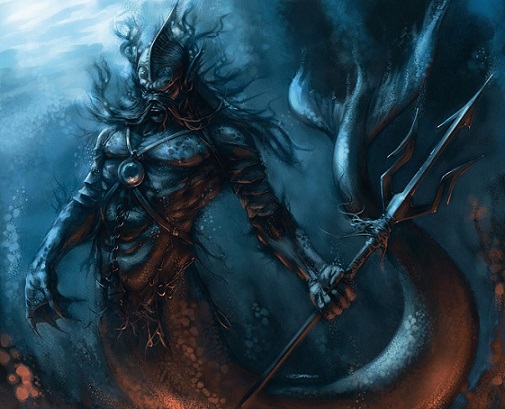 In the 10th century of the Horgon Era, Baradyan's merfolk of were beset by the Abâthigûreans. The Durkoth of this empire sought to dominate the islands and all those in the seas around them. The Naudvar War brought Abâthigûr's armies within sight of the walls of Lethae. Nearly the entire population of the Tuc'hoom, a deeply religious people at the time, bowed their heads and in unison screeched in their undersea voices -
Poseidon! Help us!

- people of Tuc'hoom, "Beseeching Poseidon"
Their patron deity Poseidon answered the call in what become known as the Sundering of Ghol Markúl. In this attack, it is said a hundred whales acted in concert to sonically splinter the island of Ghol Markúl and killing all those on it. They then aided Tuc'hoom's six legions of merfolk in wiping out the forces besieging Lethae.
The merfolk of this organization patrol the many undersea canyons and coral reefs around the islands of Harpoon Sisters and those north of it to the coasts of Hells Womb. Tuc'hoom keeps a vigilant watch of Tildon Deep and its ever-hungry and restless sahuagin and merrow.
Many dolphins, whales, sea lions, and other marine creatures work with the Tuc'hoom in fighting the menaces of the deeps.
The most feared contingents of Tuc'hoom's armies are three legions of mounted merfolk, the Vibrius Plunia. They use hippocampus as their mounts and an array of sonic and electrical charged weapons.
Conflicts
Civilization Tree

| | |
| --- | --- |
| Ilphal | |
| | Tuc'hoom |