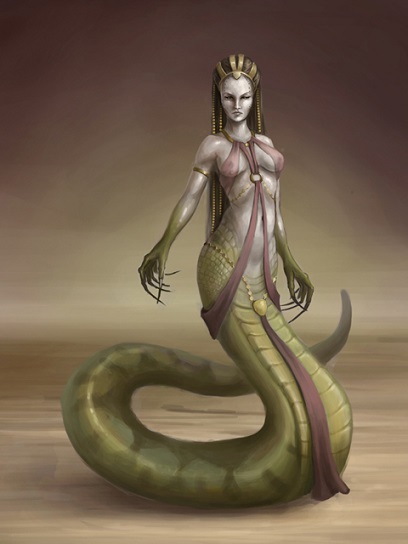 Malshirk'iss was formed from yuan-ti and other scaly tribes of central Kazzatar and Gurutharni. Since the fall of Varelay, they had been squabbling and warring with each others and those around them. They showed little interest in building anything lasting, and seem satisfied with petty cults and no serious divine presence. This changed when Tiamat sent an anathema, a creature of yuan-ti legend, to the land above. Ursorehor, an Agent of Change, waged a eight decade long campaign to bring the mobs under one leader.
In 1475, while Ursorehor was bringing the last of the malcontents under her banner, she found herself under threat. This came from the west, with Bloodtusk's river navy attacking her people while she was trying to build them up. Known as the Serpent Reckoning (1475 - 1478), it proved a stinging defeat for the nascent Kingdom of Bloodtusk. Following this war, on 23 Temporal 1478, the Malshirk'iss Empire was established. In the years that followed, these two young empires kept a parity of power that was economically taxing. They frequently gave battle, with neither gaining much from the conflict. Jairall and Ursorehor's actions against each other were bloody, with deep raids, assassinations, plaque spreading, and terrorists activities. Both realized that to defeat the other would end in a Pyrrhic victory; leaving them open to destruction by the likes of Burterinii and the pirates of Raci-Tuc and Ren-Jorusk
By the time Ursorehor became Malshirk'iss's supreme ruler, a Serpent Lord, she had long since separated from Tiamat's beckoning. Instead of spreading the word of one, Ursorehor spread the word of Lukoon and Neld-Rac, both who asked for nothing in return for their aid.
Malshirk'iss has a large population of cambions, histachi, and other creatures of unsavory origins. The cambions trace their bloodlines back to Varelay, a demon empire that once held sway over much of Tha'lith.