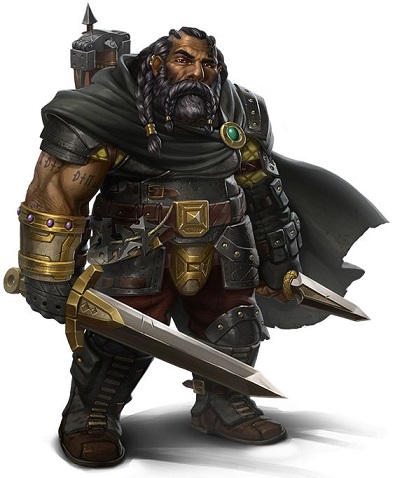 In 612, the Burazdan clan and several others separated from Phlehorn. The Burazdan left because the crown refused to issue mining licenses for territories south of Sludge. Burazdan and their allies went south into Khizunul and established the Hjalmarbrodd kingdom. The name Hjalmarbrodd was taken to honor clansman Hjalmarbrodd who died in battle fighting one of Sludge's black dragons.
Hjalmarbrodd is the southernmost dwarven nation of the Clans region. Its capital is the lava stone citadel Numakkhalgu. Hjalmarbrodd has a territory rich in mines and mineral wealth. The greatest source of quarrying is done in the lava stone pits of Khizunul.
The dwarves of this nation employ a large number of goblin indentured servants as workers. They are paid a meager wage for their services, but the dwarves are eager to keep them busy with work so that this rabble does not turn to thievery and dirtying up their dwellings. The most unusual characteristic of Hjalmarbrodd are those dwarves with yellow-green eyes. A Hjalmarbrodd with this eye color can trace their bloodline to the Burazdans.
The southern territory of Hjalmarbrodd looks into the Tiyalashe plains. This area is very dangerous with dinosaurs roaming about it. Hjalmarbrodd's military has tamed some of the plant-eating types like triceratops and stegosaurus, using them as steeds to patrol the northern fringes of Tiyalashe.