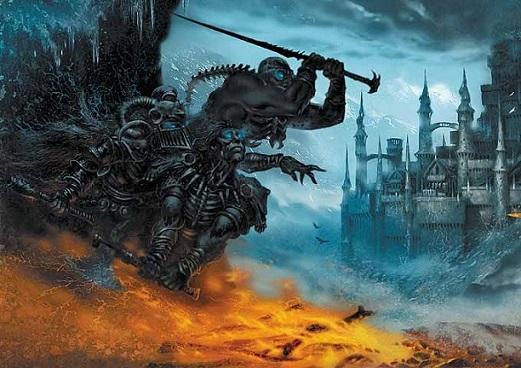 Artaxertus is an empire of cold-loving creatures from Fimbulwinter. The empire's population is largely devoted to Thyrm, yet any directives he gives must go through the Glacial Throne. The actions of the empire's leaders and society are heavily influenced by the sentience within this Throne. It is the whole reason why they are in Igas and fighting an endless war - driven by the sole desire to defeat the fiery forces of Flaemis.
Beneath the frost giants are the clan houses of the Thrallrir. These humanoids originally came from Fimbulwinter. They are more intelligent than the frost giants so they usually serve as advisers, administers, and general workers of the kingdom. Artaxterus has a classed society with the frost giants and Thrallrir filling the upper and middle classes. The lower class is largely comprised of ice trolls and dishonored giants and Thrallrir. The empire's population also holds white dragons and many elementals of cold. The elementals are generally classless and not caring for such classifications. The dragons on the other hand are often taken on as personal guards of some important personage.
The blood enemy of the Artaxertus are the Flaemis. These two peoples have waged the brutal, genocidal Thrones War for over a millennia.