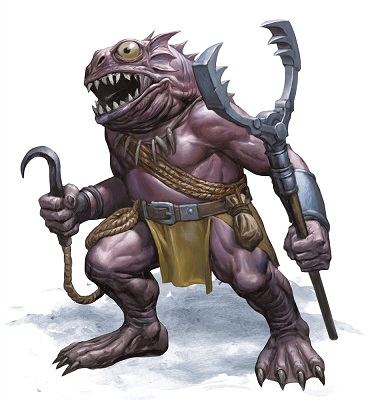 Âkhi is the oldest Kuo-toa civilization on the world of Bal-Kriav. It was founded by descendants of the first kuo-toa created in the entropic pools of Blibdoolpoolp Bosom.
Early in the Horgon Era, Âkhi backed fomorian rebels in the capture of the Aslauthroan citadel of Harkmaer.
In 1612 HE, Âkhi slavers made their way to the surface, capturing dozens of Rôzadruk's wood elves. One of these captives was a vampire servant of the Blood Cults of Kezgihr.
I was sent to Rôzadruk to spread the blessing of Kezgihr (meaning turn someone into a vampire) in any group that I could work my way into. I had only recently befriended a group of nomadic wood elves, so this capture ended my chance of turning them. We were split up, imprisoned, enslaved, and some said to have been eaten. In the deeps of Chaexidor, I found others to take the blessing, a few chosen Âkhi bath in the red glory of Kezgihr.

- Armion, master of Bamus Sithral - "Âkhi Blood Brothers"
Âkhi has suffered dozens of vampire scourges. Several times, it resulted in an empire headed by a blood cult vampire or an entire conclave of them. In the case of the vampire lord Antagore, a tyrant more bloodthirsty than power hungry, it would reduce the population to a quarter in under a decade. Other vampire leaders have proved quite successful in running the empire while keeping the population growing. To date, none of these vampire reigns have lasted more than a century with foreign agents often coming in and ridding the empire of its vampiric leadership.