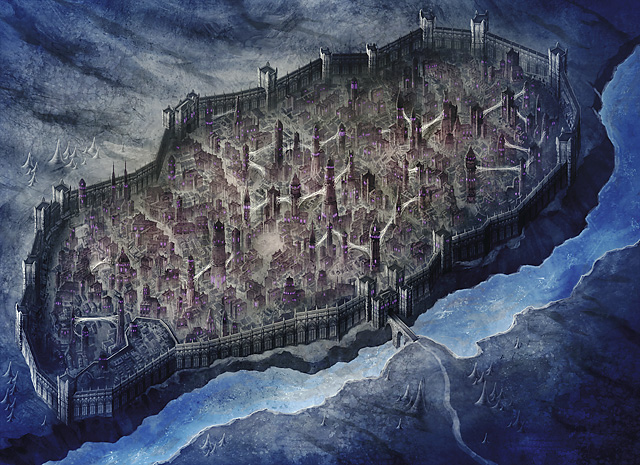 Filion'lyr was founded by drow colonists that crossed over to Bal-Kriav from Kriav. They made this journey by way of a feywild fuse. This rift, a road between worlds, is in a highly secure vault beneath the palace's barracks.
Filion'lyr is sited on a cavern ridge a hundred or so feet above the Vuzlyn river. A thousand yards northwest of the city is a tunnel through which this river flows. It spills out of this tunnel, plunging into a great falls that is illuminated in a rainbow of colors. These lights are from drow that use magic as a form of art. The Filion'lyr-Hlat'tar Tunnel was made in the city's last war with Hlat'tar's aboleth. The tunnel drained the lake that once covered much of Hlat'tar and brought an end to two aboleth city-states. This ended a period of three centuries during which the people of Filion'lyr were constantly under threat of aboleth attack or their conniving machinations.
In 652 HE, Filion'lyr colonists founded Charda'thrae and in 705 HE they founded the faraway hold Dhaunril'yraen.
Related Information
Notable Areas
Filion'lyr-Hlat'tar Tunnel
Vuzlyn