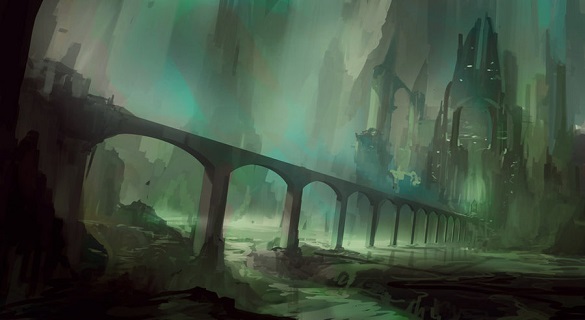 Eclavfryn was founded in the First Epoch by drow settlers out of Dhaunril'yraen. These settlers were of lesser houses, "expendables", given a dangerous task of extending Dhaunril'yraen's influence eastward. They were tasked to go four hundred miles east by the Great Tradeway, but instead went more than twice that. The area they settled was so far away that after six months they lost communication with Dhaunril'yraen. The drow settlers built a fortified camp on the northeastern coasts of the Ebonmurk. Fort Eclavfryn survived many attacks and other hazards of the area, growing into a city-state over the next twenty years. Dhaunril'yraen historical opinion of that period say that it was likely the settler's traitorous intent all along to establish their own holding beyond the reach of their Dhaunril'yraen masters.
In the Tradeway Wars, Eclavfryn became the capital of the drow empire Uzurundabud.
Eclavfryn is a bustling city with a vast trade network. They city is sited along the southwestern axis of the Great Tradeway. During the Tradeway Wars, Eclavfryn served as headquarters for coordinating military operations against rival drow city-states and other "potential subjects" along the Great Tradeway.