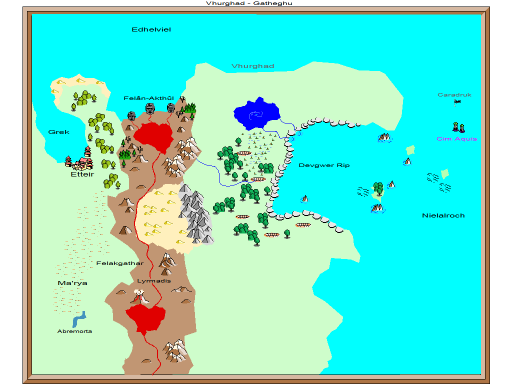 The region Vhurghad is located on Gorejun's eastern seaboard. I is a land comprised of vast grassy plains, savannas, low hills, a few mountain ranges and a latticework of rivers. The most feared denizens of this region are very large reptiles called dinosaurs. Things smaller than these great beasts tend to dwell in the highlands, tangled forests, and other areas difficult to reach by the larger predators.
Vhurghad is cut down the center by the Felakgathar Range. This rocky expanse is a volatile area of divine origins, one designed and built in the Creation War to defend against the primordials. Vhurghad's eastern border is the ocean Nielalroch.
In the early 1500s, Ivory Asylum began establishing colonies on Vhurghad. The Sargolmon Federation was formed by indigenous population to drive out the colonists and imperial influence of Ivory Asylum. By 1712 they succeeded in driving out most of the government backed companies in the region and liberating places from Ivory Asylum imperialism.
Cities of the Flame
City

2

Founded
Elevation
Meshond
8790 GE
8,200'
Cim Aquis
500' underwater