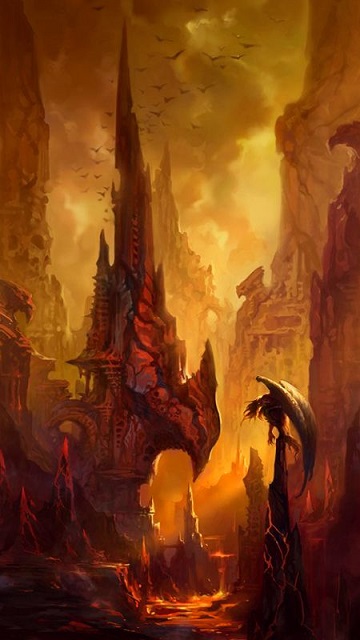 During the reign of Hellbleaker, with a vision as grand as any Varelay emperor, the Goth-Dyvermoir Empire seized the Caralda wasteland. The primary colonizers were firenewts; a group thought to prove least resistant to the move. Communication and supply with the Goth-Dyvermoir heartland was maintained by the Underdark lava flow Surturs Eyebrow.
Illadvard is built astride the main lava river flowing north from the volcano Zathess. Lava canals from this river of magma go into the city and downward. These canals wind gradually downward where they merge back into one of the rivulets sprouting off Surturs Eyebrow.
In 1351 with the ending of the Caralda Affair, Illadvard became an independent city-state. Following independence, agents of Neld-Rac worked the firenewt population by not spreading the word of their god, but that of Surtur's enemy Kossuth. The reasoning for doing this was to chip away at the power base of Surtur by causing him to loose followers and to spread a belief system more likely to take hold in the population. Neld-Rac's priests did not go about this business personally, they brought in expert proselytizers from other lands. They spoke the word of Kossuth convincingly. In two decades, they had Kossuth in the majority, in three they had Surtur's fanatics, and non-conformists, swinging from adamantine chains.