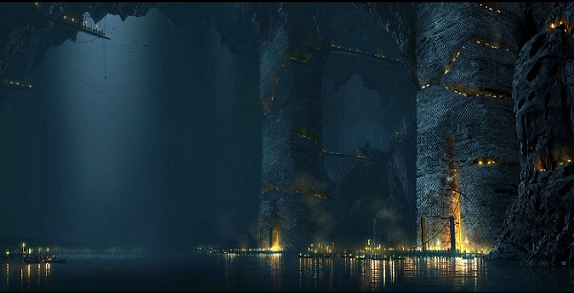 In late 17th century of the Horgon Era, prospectors out of Duluk-Zirag were coming down Mind-Dûn and mining Ulangrim. In 1731 HE, the Hagurthand fort was built to protect these mining interests.
In 1888 HE, the fishing village Tharuzbaluk became a hold of Hagurthand. The people of Tharuzbaluk were not happy with being ruled from afar, so they declared their independence in the Year 20. In the Year 77, Hagurthand defeated the rival city-state of Tharuzbaluk. A month later, these two city-states along with Arazindam and Duluk-Zirag were united under the Irdtrax Empire.
Hagurthand held the title capital city into the First Epoch, then losing it to Tharuzbaluk. This came about from Tharuzbaluk becoming a commercial powerhouse of the empire.
Much of Hagurthand is built in and about the massive stalagmite Ulangrim. Hagurthand has a port where this massive column of rock meets the Green Nebulous.