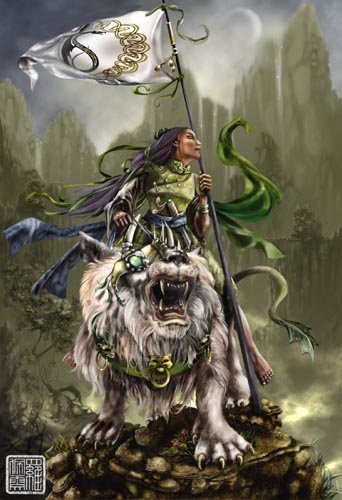 Ancalimë was founded by Covenant ex-soldiers that had fought in the Demon Spawn War. When that conflict ended, they were left on Bal-Kriav. Their civilization begin in the later years of the God Era, near the heart of the Arboreal continent at fortress Varnavei.
The Ancalimë kingdom has tens of thousands of tree dwellings scattered across a near endless expanse of woodlands. The trees of these ancient forests are mammoth in size. Some have bases of no less than one hundred feet in diameter. Many forests under control of this empire are so dense and tangled that light never sees the forest floor.
In times of danger, Ancalimë can call upon amber dragons, unicorns, and other fey. The vast and seemingly endless forest territory of the Ancalimë are patrolled by elven rangers mounted on unicorns, dire lions, dire wolves, giant eagles, and dragons. The most elite corps are the Jade Wardens. They have a warrior tradition that goes back to the days when they served under angelic generals in the Creation War.
In the Year 52, Ancalimë settlers travelled to Hadraniel by way of the Oaken Gate. These settlers went on to found the settlement Hanthaerion and later the Galadriël Kingdom.