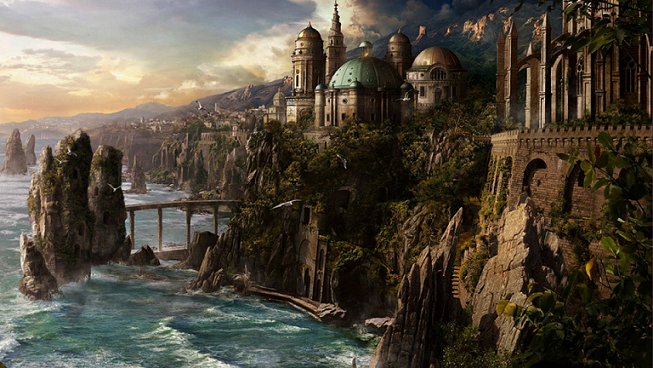 Aggis was built by fishermen out of Vraga Moltus. They built it on the island of Gunalc, close to fishing areas that have long been known for being bountiful in all seasons. In Year 1355, long coveted for the area's profitability and strategic importance, the Farinteen Empire forcibly annexed the island and its small town.
Aggis became a major port for the Farinteens. The Gunalc island has two deep ports, one on the east side and the other on the west. The latter was excavated through magic and by means of water elementals. Aggis is 110 miles southeast of Vraga Moltus. The city is a major trading port, much to the consternation and jealousy of the rulers of Vraga Moltus.
In 1501, Aggis was unscrupulously bartered to the Council of Nine by the desperate leaders of the Farinteen Alliance. In return for military assistance in the Black Tide War (1465 - 1504), the Farinteen Alliance sold the city to Paradomea. Paradomea's entry into the war was too late to make a difference. Aggis became a Paradomea holding with little done on her part. Today, the people of Malacost and the Lands of Purity still talk bad of the deal, how Paradomea's Council of Nine will do anything to make a good deal for themselves.
Malacost and other organizations in the region have a considerable influence on the affairs of Aggis. They encouraged the city's owners, contrary to the norm across Paradomea, making Aggis a non-slave city.