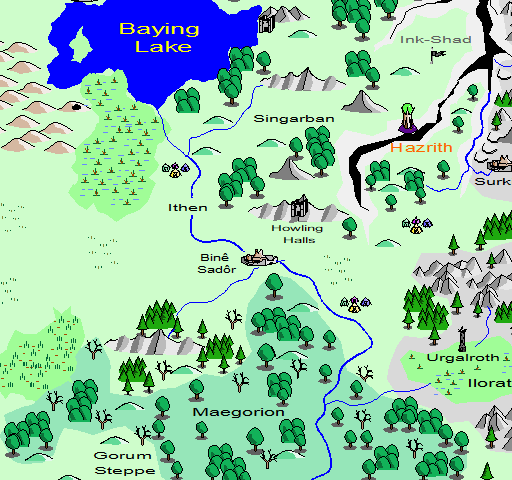 In 892 HE, soldiers of Ak'mrîtun (872 HE - 49) built a camp on the eastern shores of the Ithen River. After five years of serving as a base for pacification efforts, it had become a fortress guarding the only bridge across a river known for dangerous currents, bothersome sirine, and things more sinister. When Ak'mrîtun's western frontier spread beyond the river, fortress became a rapidly growing town. Its original name was kept, Binê Sadôr, with Binê meaning "camp" in Langurâpha and Sadôr the name of a fabled sirine queen of the old Durkoth home-world of Osâchar.
For its first three centuries, Binê Sadôr was predominately home to Durkoth and Theegan. They turned a war camp into a rich and splendorous city, rivaling the old Horgon cities of the Durkoth home-world. In 1001 HE, Binê Sadôr replaced Argruxiel as Ak'mrîtun's capital.
In the Durkoth Descent (995 HE - 1355 HE), Binê Sadôr and others holds across the world were abandoned by the Durkoth. For Binê Sadôr, the new ruling class became their former slaves, the Theegans.
When Ak'mrîtun fell to the "horse-worshipers turned Jara", Binê Sadôr was left a ruin. Krak-Oths Nail, a bridge spanning the Ithen, is still intact. Named after Ak'mrîtun's god-emperor, it is constructed with Gûn Helmet piles and columns and blutium girders. Maintenance is kept up by earth elemental crews out of Hornfels; it is said they are still be paid by Krak-Oth.