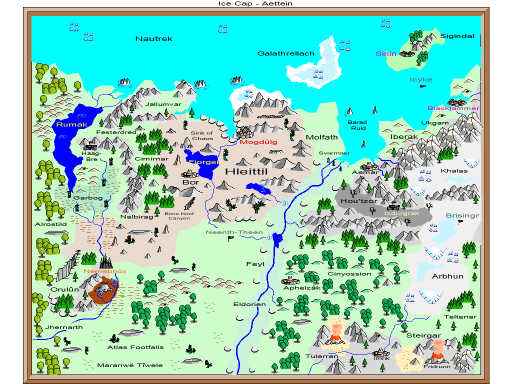 Galathrellach is one of the Ice Cap Isles of the Nautrek sea. Like the Isgofnel isle, it is a bluish white mass of unusual ice. These strange icy islands are extensions of the Ice Cap region. The ice of the island is not normal, like that of Ice Cap, it is infused with energies from the Cube of Arcane, so it melts a lot slower than normal ice.
Galathrellach has several small towns which have come into being from fishing and mining. The mining interests here are independent of any major power. This came about after a number of conflicts from state-owned mines and the resulting placement of Blackjammer and Batthurâk troops here. In 1755, the Galathrellach Agreement was signed making it so that no state enterprise or garrisons were allowed on the island. Today, the business interests here are largely independent with some state support added to counter monopolistic parties.
The island has a high concentration of Ice Cap shards which are centered around the island's center. This area also has very cold mines that delve deep where they touch veins of Lapis Ice.