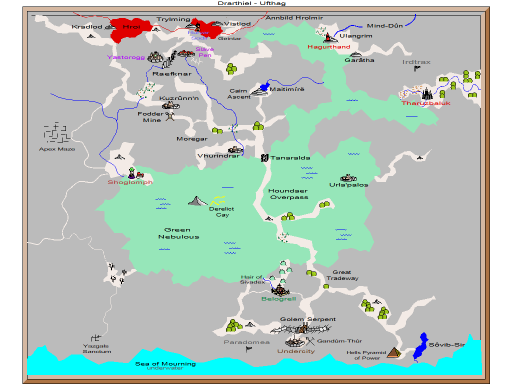 In 1333, a war began in the rift Raefknar. The conflict spread from the cliffs and tunnels into Drarthiel.
The Raefknar War started as a war between Bolip-Stalacite and Irdtrax. When the demon warlord Dvr'jiss Jagg moved into Raefknar he joined in the war, attacking Yastorogg from its less defensible western and southern sides.
In 1337, the Army of Dvr'jiss Jagg captured Yastorogg. In the Year 1338, all parties to the conflict signed the Peace of Raefknar treaty. As part of this treaty, Irdtrax gave up claim to Yastorogg, territorial delineations were made with Dvr'jiss taking the western half of Raefknar and Bolip-Stalacite taking the east.