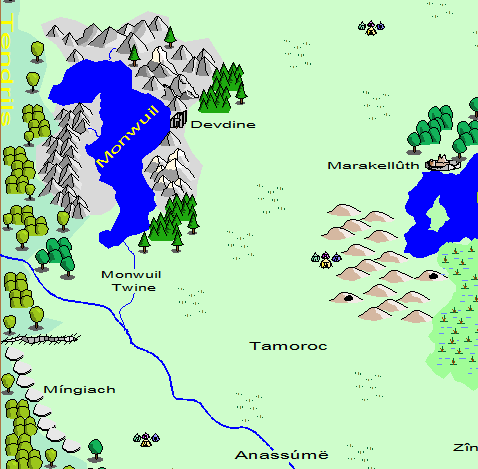 | | |
| --- | --- |
| Type | war pick |
| Forge | |
| Smith | |
| Enchanter | |
| Location | unknown |
Demon Purr is one of the chaotic evil sentient weapons that came out of the demon-built fortress Devdine. When Demogorgon's forces were driven out of the Tribe Steppes, Demon Purr along with a few other sentient items were left behind. The idea was that even though the demons were gone, these sentient weapons would remain behind and act as vessels of Abyssal intrigue.
Demon Purr is a +3 war pick of wounding. The haft of the weapon is forged of black silver. The weapon's head is forged of cold-wrought iron with bands of silver. When in combat, the sentient weapon purrs a sick melody.
Sentience
Trait
Value

Alignment

chaotic evil

Intelligence

15

Wisdom

12

Charisma

10

Ego

19

Communication

Speech

Languages

Abyssal, Halfling

Special Purpose

Slay Lawful Good Creatures
Powers - as 14th lvl caster

| | | |
| --- | --- | --- |
| Wounding | as Wounding special ability | continuous |
| Slay Lawful Good | causes additional d6 vile damage versus lawful good | continuous |
| Summon Minions of Chaos | summon 1-4 hill giants, 2-8 ogres, and 1 young black dragon, use of this power ages the wielder 10 years - no save; the creatures will arrive in 2-8 weeks. | 1/year |
| Insight Frenzy | as the barbarian berserker ability | 1/day |
| Detect Magic | as the spell | 3/day |
| Detect Traps | as rogue of same level for 1 hour | 2/day |