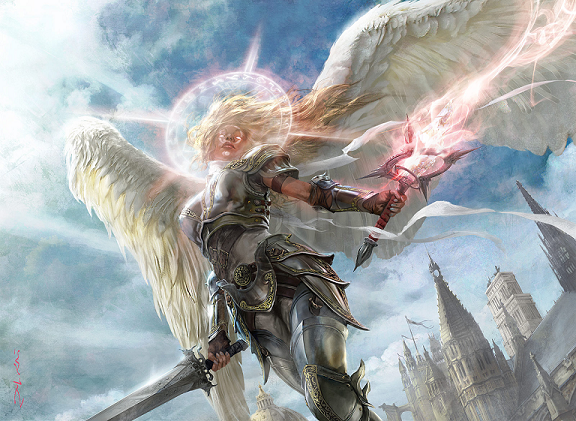 Angels are ranked from the lowly lantern archon to the mighty Archangel. As far as power level, archangels are one tier under Cult Powers. In the same process that cult powers progress through the ranks of Higher Powers, archangels progress to being a cult power by acquiring divine power. This requires gathering followers, which for many is simply not in their interests, so few decide to progress towards becoming a Higher Power.
In the God Era, some of the greatest archangels that survived the Creation War and the Demon Spawn War became gods. Some of the more notable of these are Ares, Athena, Naraz-Nâru, Corellon, Phalgas, Silvanus and Set.
When an angel obtains a higher rank, they become a higher form. This happens by way of judgment of their superiors. For each rank it requires more superiors to approve the elevation to higher form. The number of superiors is a percentage of the total population of the next rank. The neutral alignments are noted for requiring less of a say for advancement compared to those of law and chaos.
Angel Ranks

| | | | |
| --- | --- | --- | --- |
| 1st | Lantern Archon | Coure | Musteval |
| 2nd | | Movanic Deva | |
| 3rd | Warden Archon | Asura, Ghaele | Equinal |
| 4th | Owl Archon | Firre | Hollyphant |
| 5th | | | |
| 6th | | | Astral Deva |
| 7th | Planetar | Planetar | Planetar |
| 8th | Solar | | Solar |
| 9th | Archangel | Archangel | Archangel |